got off to a late-ish start yesterday, got on the road at around 11:30am and arrived in oxford ohio at around 10pm. we (me rod smith and mel nichols) stopped fairly frequently, if only to stretch legs, admire the 1950s military-industrial-complex nature of ohio's interstate rest areas, buy junkfood and psychotic frog keychains and other toys that make noise. stopped just outside columbus for dinner and found a half price books where i purchased the second volume of the library of america gertrude stein for 7 bucks (list price $40).
bill howe came and found us as we drove aimlessly around the miami university campus and led us to cris cheek's place, where a practice reading gathering with food and sangria was just finishing up. saw mark wallace, lorraine graham, cris, mike basinski and keith tuma there along with a host of new student faces, a few drinks and porchside chats before heading off to chez howe where mark lorraine and mike and i would be crashing. we all stayed up for a little while acquainting ourselves with the digs, talking and looking at the various publication in various states of completedness while having a nightcap.
oxford ohio might as well change its name to college, USA. the town is miami university and vice versa. something like 20,000 students and 3,000 townies i think bill said. has the feel of a lovely, manicured rich kid party school, the last place in the world you'd expect to find the very important innovative poetry work that's being done there thanks to keith, cris, bill, et al.
this morning greeted us with bagels, croissants, strong coffee and students coming by professors howe's to finish working on publications, reminding me very much of when i first met bill some eight years ago the weekend of the zukofsky conference in buffalo when there were multiple skin-of-teeth fellow-gradstudent publcations being assembled only hours before their scheduled launches.
the first scheduled event of the afternoon was a lunch buffet in the english department conference room in bachelor hall. (note: food was plentiful and available at every step along the course of the weekend.) very nice formal yet comfortable room with one wall-shelf devoted to multi-volume editions of all the great english litterati from chaucer to the 20th century in chronological order. would've made a great group perforance piece: everyone present take a place along the wall and pick a random text to find language to read from, document, edit/assemble results randomly. lunch was followed by and continued into the launch of
hundreds
, an inspiring assemblege mag. contributors send a couple hundred copies of their single-page (double-sided) submission and the editors collate and staple, thus saving on labor or at least spreading it around in good communitarian fashion. cris invited any of the contributors present to read and or talk about their work, and there was a terrific variety of it, from varied collage-based stuff and found work to straight up poems. very generative, wanted to rush right home and make an assemblege of my own that corresponded to each page in
hundreds
.
then bill gave a talk on concrete poetry that argued that the major anthologies from the 1960s (edited by mary ellen solt, emmett williams and the like) presented a specifically "clean" argentine-germanic take on the work (gomringer, the de campos brothers) at the expense of the "dirtier" british variety (cobbing et al.). bill implied that there was a kind of fascistic impulse latent in "clean" concrete's desire for singularity of meaning and interpretive control, in spite of its explicit emancipatory rhetoric. this was followed by some conrete films by niko vasselonikas (CORRECTION: Nico Vassilakis) and miekal and.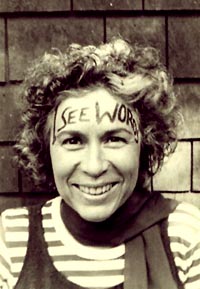 the next session featured more papers of the academic/critical variety: alan golding on robert grenier's recent work and linda russo on hannah weiner's claivoyant journal. alan posed the issue of whether or not the recent online availability of grenier's one-of-a-kind handwritten poem objects reinforces or compromises their materiality, while linda insisted on weiner's clairaudience, or the aural quality of words heard as opposed to the clairvoyant of words seen. (weiner herself made claims to both but critics typically privilege the latter while linda wanted to emphasize the former.) between the two papers i read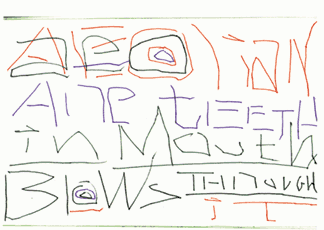 two short poetics statements that i had detourned from the writings of ad reinhardt so as to apply them to poetry rather than abstract art. (will post these at some point.)
the late start and extended post-paper discussion meant we were a bit delayed in getting to the next event, a performance by a michael basinksi ensemble and TNWK (cris cheek and and kirsten lavers). the troup of miami students performed the fluxus-esque works of basinski quite competently and hilariously (and with occasional viola accompaniment). again great variety in the work: from multivoiced pieces celebrating the copulation of snails, to "translations" of the 39 inuit words for "snow" into the buffalonian idiom, to an affect-filled "awww" "eeeeew" "ahhhh" piece making such non-verbal expressions of cuteness, disgust and satiety quite silly through excess. mike followed this up with a few solo pieces, an instructional piece on the states of william r howe (literally all the places that bill was known, proven or thought to have lived in his lifetime) and an improvisation on a visual poem that teased out of it greek fire gods and arthritic frog fingers.
the
TNWK
piece, "a retrospective scree(n)d," was quite marvelous. (cris and kirsten perform together under this name, which stands for things not worth keeping.) cris and kirsten read softly from either side of the stage, creating an intimate setting in which between them projected images of them working behind some kind of transparent strips of curtaining in what appeared to be some kind of gallery installation, itself featuring the projection of text (presumably related somehow to what they were reading live). in fact, as cris told me later, the video was showing and installation that featured cris and kirsten weaving together strips of 8mm film (from a discarded collection of condensed made-for-home-viewing classics) with strips of shredded books that they had saved from a previous project two years prior. the text being read, and projected in the video, was found language from the shredded text combined with language from actual people who viewed the installation. this all sounds rather convoluted, but trust me, the overall effect was utterly warm, generous and inviting.
this led us all to carpool to bill and lisa's for a massive pasta feast for 20 orchestrated by our wonderful hosts, prior to which i type this. dinner is now served, more whenever i get a chance...