my first trip to the
burlesque poetry hour
all year, unfortunately monday nights not usually being a good night out for me. but school being out and me finishing off a low-key holiday weekend and mark wallace being in town all seemed like the perfect combination of excuses (reasons?) to hear dan nester, whom i read with at the zinc bar a few years ago, and jamie gaughran-perez, whom i've heard a number of times in various haunt. (karl parker was a no-show.)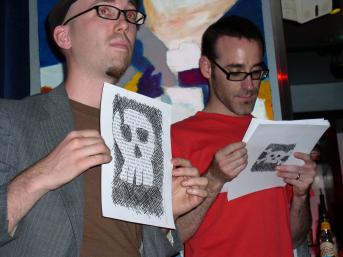 jamie's set offered a variety of work, some individual poems including a kind of twisted valentine for tracey, along with excerpts from two larger projects. one was something he called tender buttons skulls i think (depicted left), in which texts was accompanied by b&w images of skulls. not sure what the relationship was between the two but my impression was of a tribute/ratcheting-up of stein: indeed one of the poems was a delicious heap of shredded verbiage. the other project involves dialogues for different kinds of robots. i've heard jamie read these before and they are very hilarious, playing with ideas of cyberlove and safe versus dangerous internet behavior for children. the dialogues are full of all kinds of inappropriate Qs and As, and jamie's friend john served his interlocutorial duties well.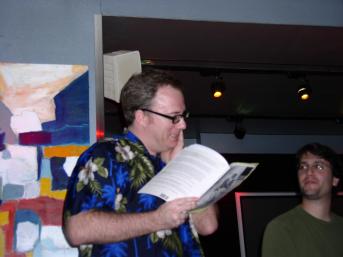 dan read the "bohemian rhapsody" poem from his tribute book to the rock band queen (even tho he offered to take requests and a number of us shouted "killer queen"). i'm less a fan of the schtick than dan is developing, which seems to take masturbation as one focal point (nothing wrong with that per se of course, his efforts to be frank and open about it are not entirely convincing to me) than of his autobiographical mode in which his love of music of all kinds, his aspirations, fears and uncertainties shine forth with a straight-up honesty that's very refreshing. was good to chat with him too and find out that he's happy in albany with a good job and a good poetry crew in the neighborhood.
in the auctions that ensued after each reader, jamie's kiddie crotch socks fetched a mere $10 while dan's madras button-down shirt went for around $40, the deal having been sweetened with a copy of dan's book and the promise of other favors.
more pix
here
. next month: evie shockley and ken rumble plus a player to be named later!