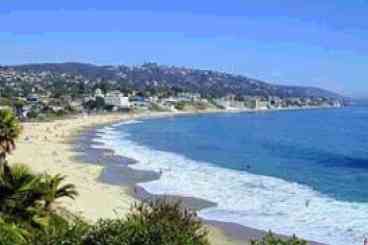 from the home office in capistrano beach, california...
last week had me pretty preoccupied between total music saturation, preparations for transcontinental vacationing and transatlantic job interviewing, now, midway though my vacation week i can offer the following snippets of observation. (all times PDT. the sunday-tuesday ones were either in emails to mark or commentboxes to jessica.)
[sunday 5:30 pm]
supershuttle came a-calling at 5am sharp. i'd slept thru my alarm and numerous phonecalls by the supershuttle guy: in my dream the phone was ringing and it was somebody from a video store or something and i did not want to talk to them so i just let the phone ring. lucky for me supershuttle guy didn't just give up and drive off. you'd be surprised how busy natl airport is at 5:15 am on a sunday. needless to say until i could get some breakfast and coffee into me on the dallas layover, i was not a happy camper.
[monday 1:42 pm]
cloudy this morning but the haze has burned off! gonna have a late lunch now and walk the length of the beach as seems fit. and yr right it's freakin chilly at night!
[monday 11 pm]
man wish y'all cd be here, you and all my friends. i mean i know it's no big deal for you and lorraine to go to the beach, now. i've not been to "the beach" since 1999. it's tres bon: fire, surf, heat, chilliness, drinks etc...
[tuesday 10:40 am]
the families have gone off on separate day trips today: my sister and nephews to disneyland, their cousins to the san diego zoo. so i'm holding down the fort, cleaning up the place a bit, doing some laundry, having leisurely breakfasts, checking emails and airfare to london on the patio overlooking the surf. indeed cloudy and chilly today, think i even felt a few light raindrops. will it burn off? or does it most of the time?
thinking i'll probably catch the OCTA bus to san clemente this afternoon, there's a used bookstore and a few thrift shops there, mebbe find myself a little late lunch spot...
driving around w/my sister yesterday late afternoon to and fro a target store in/around laguna hills and laguna niguel -- everything is freakin brand spankin new around here. even the 7-11s look freshly scrubbed. and all the residential property is up on these lovely hills. like, there's hills everywhere, and all the hills have these lovely residential properties on them: no residences anywhere else, nothing on the lovely hills but lovely residences...
[tuesday 5:40 pm]
sounds like i left the east coast at about exactly the right time. not a drop of rain here in capistrano beach california. (well not true: i think i felt a few around 11 am today.) mornings have been cool and overcast but the clouds have typically been burning off by 1 or 2 in the afternoon, and then things heat up quite nicely into the low eighties and stay that way until a gorgeous sunset moves in, by which time we're about ready for a beach bonfire that makes it continue to feel like daytime warmth even while away from the fire a sweatshirt is usually in order.
[wednesday 4 pm]
san clemente was strange, not much to it really. a few restaurants, none too extravagent looking. bookstores and thrift stores offering nothing to really speak of. surf shops and surf board shops. an unused parks. a pocket of light industry: janatorial and restaurant supply company, a sandal factory. guy sleeping in a pickup truck camper. a woman eating in her car. the OCTA bus made no stops along the PCH between the major intersection a mile away and the san clemente train station 5 miles in the other direction (antithetical the DC buses which stop every block.)
fancy dinner tonight at the montage, laguna beach.
[thursday 12.40 pm]
dinner at
the loft
, montage resort and spa's casual gourmet restaurant, was quite something. (rooms there start at $420/night). bill and lisa and i shared everything. our three starters were: 1) pan-seared maine diver sea scallops and sherry glazed pork belly garnished with a sweet cream corn and, curiously enough, a few pieces of popcorn; 2) carpaccio of ahi tuna, garnished with coconut curd and lime jelly, and a caper-cilantro salad; and 3) vanilla butter-braised lobster served with cured lemon and ricotta agnolotti in a citrus sauce. the scallops and the tuna were in a close tie for my favorites, but since i'm not generally inclined to go for raw fish i'll give the tuna the edge, it was a really wonderful surprise to me. the lobster was not bad, hardly, it's just the citrus flavor, mild as i was, sort of dominated and i never caught too much vanilla.
we shared two salads: 1) a shaved braeburn apples and celery heart salad with rocket greens, goat cheese and golden raisin emulsion, and 2) a salad of summer melon and peppercress with crispy prosciutto, muscat grapes and chili infused honey. #1 was tasty, celery dominated but it was all a little too saturdated with what was i guess the golden raisin emulsion, sweet but rather indistinct. #2 won hands down in my book: a variation on the old melon and prosciutto favorite, the chili-infused honey gave this all a subtle but powerful sweet-hot.
for the entrees we could not pass over this signature dish: 28-day dry-aged coffee-crusted new york strip, served with fourme d'ambert cheese (close to a blue) and wild arugula and a bourbon-caramel garnish. yes it was as awesome as it sounds. two of those please, and we also threw into the mix a crispy meditteranean loup de mer (a mild whitefish i'd never heard of before but was quite tasty) served with maitaki mushrooms and mint and garnished with a sun-dried grape puree, which was also quite a surprise and went quickly. desserts included a chocolte and meyer lemon sampler platter, something that they called "candied toast" that even our waiter had never tasted or served to anyone, it turned out to be like a hunk of briche that had been soaked ot infused with a mild chocolae of some kind, served over a kind of pistachio butter and beneath a dollop of guiness (yes, the irish stout) ice cream. by far though the show-stealer dessert was the pineapple upside-down cake: take your classic 1950s brown-sugar-soaked dole pineapple rings and betty crocker yellowcake mix, tasty as it is, and now ramp it up by about fifty degrees of decadence (and for brown sugar substitute butterscotch) is really all i can say. trust me.