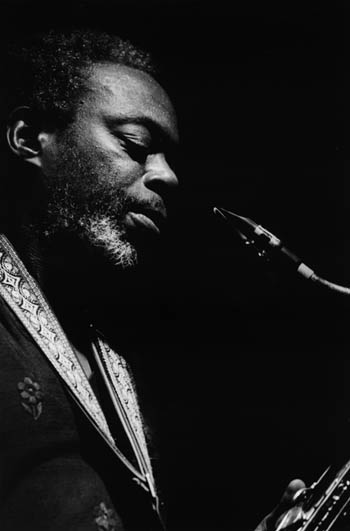 when i started getting serious about free jazz in my last two years of college, i had a radio show on the crappy campus station and eventually played exclusively my new discoveries in the genre. fortunately what the station lacked in audience it made up for in decent vinyl, and i quickly learned that anything on arista/freedom was likely to be worth a listen: braxton, art ensemble's
paris sesions
, cecil taylor's
nefertiti
, julius hemphill's
dogon a.d.
, and of course,
look for the black star
by dewey redman -- these were the slabs that i nurtured a taste originally nursed on ornette coleman and john coltrane.
it's actually criminal that redman's debut leader date,
look for the black star
, is out of print and not commerically available in any format. from the rollicking joy of the title track, side one moves into the slight samba feel and hesitant, inquisitive break of "for eldon." side two begins with the brief, pensive atempo "spur of the moment" before launching into the album's other centerpiece, "seven and one," another joyous and possible kirk-esque piece whose theme alternates between hilarious stop-starts and uptempo freebop. the side closes with another thoguhtful ballad, "of love." like i said, it's an utter disgrace that this music cannot find a place in a marketplace which is thereby doing the world a tremendous disservice.
at least his impulse work made it to CD, with
the ear of the behearer
reissue being filled out with four tracks from the subsequent
coincide
. while perhaps best known as a sideman for ornette coleman and later keith jarrett -- his discography as a leader is sporadic and in shambles -- and known also for a spawning a famous tenor playing son named joshua, dewey redman was an utterly unique and accomplished player in his own right. i'll never forget sitting with rod smith at my place one evening listening to my newly=pirchased copy of coleman's
new york is now
, and the lovely, plaintive opening
composition "the garden of souls." it clocks in at just under 14 minutes long, the first 8 or so minutes of which are taken up with an extended coleman alto solo, whcih a little after 5 minutes double-times up the tempo and cooks along at that pace for another 4 minutes before simmering back down. at 9:54 this low foghorn rolls in outta nowhere! rod and i both stopped in mid-conversation and stared at the stereo in silence: what the hell was that? redman frequently vocalized while playing, he sang or hummed or shouted amidst, beneath or overtop the saxophone soundings to create wonderful dissonant and emotive effects. and let's not forget to his explorations on the musette -- one of few contemporaries (aside from giuseppi logan and bill cole i suppose?) to take up the invitation of asian reed instruments in any serious way.
a truly underappreciated modern master who will be missed, dewey redman has received a suitable tribute from al
nielsen
....

       THE EAR OF THE BEHEARER (after Dewey Redman)

       Dewey eyed
       Playback to
       Where the I goes
       Ghost wholes
       Half-choked holds
       Rest a while

       Funcityhues
       Lo sadidy dues
       Blue Redman

       Coincident black star
       Signs oud
       Dithering zither
       Deed seeds

       Somnifacient meditation
       Almost Eldon

       Differing in unison
       Boody image in
       Dis
       Guise

       Vertiginous
       Variance