elegy for the astronauts #4 (1964)
geranium, from flowers in concrete (1966)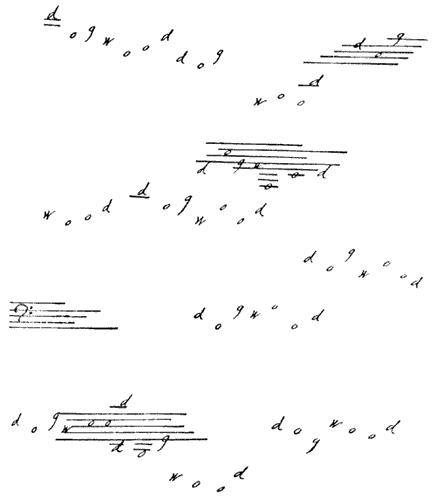 dogwood, second movement (1966, from artpool.hu)
from
prentice-hall author biographies
:
Mary Ellen Solt was born in Gilmore City, Iowa, and spent much her life in the Midwest. Her poetry and essays were heavily influenced, however, by her international travels. Moreover, Mary Ellen Solt's
Concrete Poetry: a World View
established her as a powerful influence on the genre of concrete poetry around the world.
Her international travels would produce more than poetry. A university professor on teaching exchange in 1977–1978, Mary Ellen Solt spent time living in Warsaw, Poland, with her daughter Susan. She was instrumental in establishing the American Studies Center at Warsaw University. Back in the United States, she served as the first director of the Polish Studies Center at Indiana University, established in 1977.
Married for nearly forty-seven years to historian Leo Solt, she is the mother of two daughters, Catherine and Susan. In her retirement, Mrs. Solt moved with her daughter Susan to California. She continues contributing to education and the arts by serving as a Visiting Artist at the California Institute of the Arts. She remains a Professor Emerita of Comparative Literature at Indiana University.
Some other works by Mary Ellen Solt:
* Creator of
Poor Old Tired Horse
—a volume of poetry
* Editor of
Dear Ez: Letters from William Carlos Williams to Ezra Pound
* Poems
Marriage, Rain Down, Moonshot Sonnet